Emoticons for Twitter
Twitter supports over 1000 emoji, such as emoticons, smileys, animals, love icons and country flags. Twitter emoticons are compatible with all computers and smartphones and you don't need to install anything to use them.
How do I use the smileys in Twitter?
Each emoji for Twitter is represented by a code. To use our Twitter smileys, just click on the following emoticons

and copy 🎃 the code (Ctrl+C), then paste it (Ctrl+V) in your tweet. Twitter will convert this emoji into colorful icon once you post it.
The most-used emoticons on Twitter
Don't forget to and share these amazing emojis with your family and friends.








































































































































































Browser Extension for Twitter
You can download our free extension for Google Chrome and you will have quicker and easier access to all emoticons in Twitter. After installation you will see displayed a small icon in all tweet boxes. When you click on it, you will see all emojis.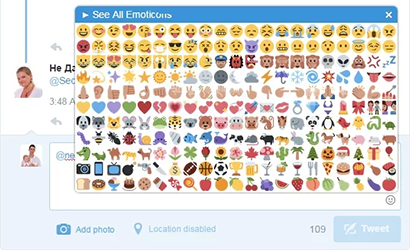 DOWNLOAD